This article is based on an IGTV Live session with Madhish Parikh, a youth activist from Ahmedabad, about becoming a male menstrual educator and initiating a period-positive environment in schools.
Q1: How did you become a menstrual educator?
I got introduced to Ahmedabad Global Shapers, which is a network of young people under the World Economic Forum. Through that, I came across the Science Period Project. The school where I teach also became a part of this project. I observed that, in my school, the teachers in the other classes were skipping the chapters about sexual reproduction and menstruation from the students' books. Because of my exposure to the Science Period Project on menstrual education that was initiated and actively run by the hub, I was confident to take up this topic in my school. I think that teaching children about periods and their sexual health is the first step towards ending the stigma associated with menstruation. I really hope that in the future, menstrual education for every girl starts at home and I dream of that day when an awareness session on menstruation is not necessary.
Q2: What were the reactions of your students when you taught them about periods?
I share a frank relationship with my students because the age difference between us is not very much. That is why they are comfortable with me.
The first time when I decided to teach the chapter about sexual reproduction from the students' textbooks in a class, a student pointed out that this topic is skipped in other sections and is not a part of their syllabus. Upon hearing this I affirmed that understanding the science behind growing up and the changes in our body is crucial for all of us in this class. After I taught this chapter to the students, they went ahead and shared their experiences about the class with other students from different sections. When other students came to know that this chapter is not skipped in Madhish sir's classes, they requested me to teach this topic to them as well and that was the beginning of fitting into the shoe of a menstrual educator.
Even though I believe that the textbook we were using was not very comprehensive in terms of sexuality education, the topic of menstruation and reproductive health still cannot be missed. When you are confident in yourself and in what you are teaching, even if you are a male menstrual educator, the confidence is reflected back in the students.
Q3: Tell us all about The Science Period Project and what was the response of the students and fellow teachers in your school?
The Science Period project was basically a science and art-based project where girls created models on menstruation, which was something really interesting for them. The first step in the process that we followed was that Aditi Gupta and a few other members from the hub came to the school and conducted menstrual awareness sessions. After this the students were asked to make a working or non-working model on the female reproductive system using the materials of their choice- it could be cardboard, POP, thermocol, or anything commonly available in their households.
It turned out to be a beautiful art-based activity that helped to explain the biological aspects of menstruation. We had tried something like this for the first time and the models were so beautiful that we exhibited them in the school for everyone to see and engaged in an open conversation about periods with others in the exhibition.
When the principal of my school came to the exhibition, she exclaimed that she had never seen such a beautiful presentation on periods ever. Overall, this project was positively received by both parents and faculty members.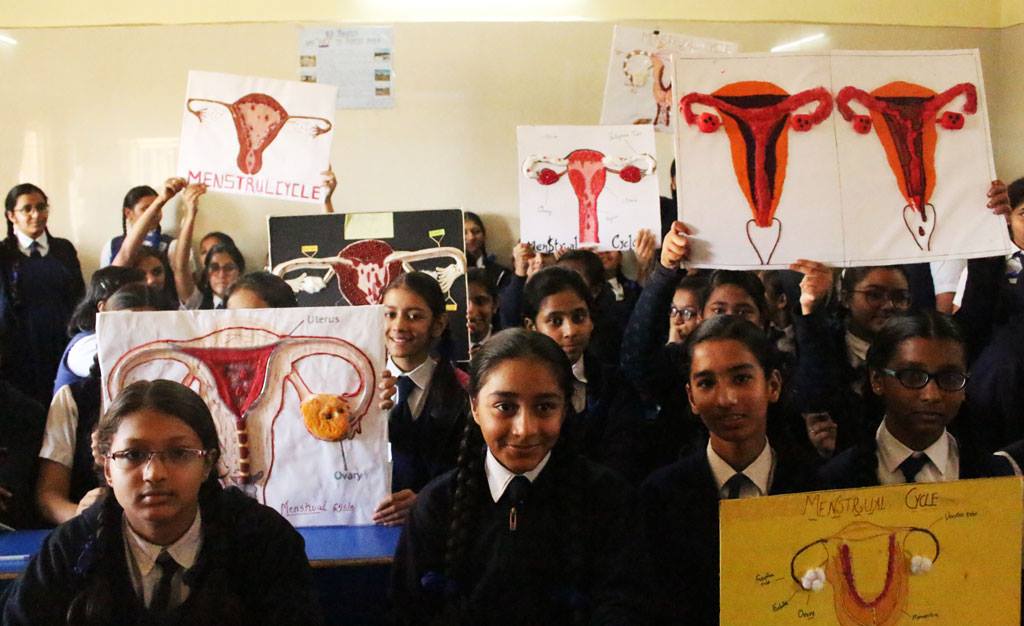 Q4: Best School in Ahmedabad is a co-ed school. Did you separate boys and girls while teaching them about periods in the class?
When I was taking sessions in the classrooms, I taught the boys and girls about sexual health, reproduction, and menstruation together because I knew them well and stayed with these students for a longer time. They could always reach out to me even after school hours or the following day. When the Shapers team came to the school this project was conducted specifically for the girls because it was an experimental project for the Shapers team and it was easier for the girls to do it.
Q5: What was the larger impact of this project in your school environment apart from breaking taboos and how can these kinds of initiatives remain sustainable, because sometimes the projects are targeted as a one-time action of teaching about periods and leaving it to that?
I greatly believe that where there is a will, there is a way. I believe in creating a community for a cause. When you want to create a change in society, it's all about your willingness. You start finding people who can help you and your community starts building automatically. After this project, the impact was such that three of the students from the school became inspired and they went on to take menstrual education sessions in rural parts of Gujarat.
Right now, the environment at the school is extremely period-positive. Roughly three years of investment in the school has led to an army of menstrual educators who are ready to change decade-old perceptions. There are no external facilitators and it is a self-sustaining model where the seniors of the school take sessions about menstrual education with juniors. We have male menstrual educators as young as 15-year-olds from 10th standard onwards and periods are normalised in the school environment.
Initially, the girls felt shy when they went for period workshops and the boys questioned them about what was happening in those classes. But eventually, boys joined the workshops and we even talk about boys' puberty and the changes in their bodies and feelings. The impact of the project has grown exponentially in this way.
Q6: Several males join Menstrupedia's network and our Menstruation Masterclass taken by Aditi Gupta. How difficult is it to be a male educator and talk about periods, are you bothered about taking the permission of parents? What are your suggestions for a male who wants to become a comprehensive sexuality educator?
You should always be confident about comprehensive sexuality education and relate it to the health perspective. Even parents will consider it to be an important topic that way. It is necessary to talk to the girls and boys about their health and menstruation is a necessary part of it. Teaching these topics from a scientific point of view helps, especially if you are a male educator.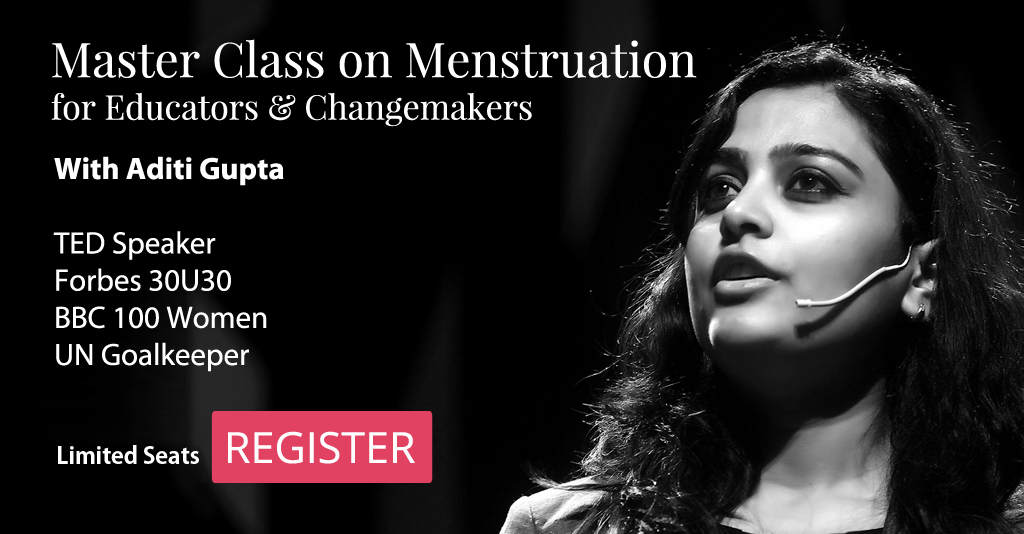 Q7: How should one prepare for taking sessions on menstrual health and how does one handle questions in the class afterward?
Have the will to change the perception of the society regarding menstruation and comprehensive sexuality education.
Be good with your research. You need to educate yourself about periods first. The reproductive system is like any other system in the body like the digestive system and can be understood with a bit of self-study, videos, and online resources.
Be confident in yourself. Before entering my first class I was really nervous too, but I took a long breath and believed in my research on periods. After a few sessions, I became very confident.
Always try to approach the topic in a scientific way. Don't challenge religious or ritualistic practices at home like not being allowed to eat a pickle or to enter the kitchen.
Explain the process and let the students decide for themselves if the practices are right or wrong. You have to become a catalyst for change and open the floor for discussion. Parents also join the conversation when you don't challenge their beliefs.
Face the questions of students with sensitivity. You have to create agents of change rather than rebels and this happens when you include everyone in the journey of menstrual awareness. Answer everything as scientifically as possible.
Q8: What are the resources used by you to take a Menstrual Education workshop?
We used Menstrupedia's educational video "Hello Periods", along with art models on reproduction and periods made by the students in The Science Period Project. They chose the materials of their own choice like POP, cardboard, and easily available things around us.
Q9: When there is no internet or basic facilities like electricity in schools, what resources can be used to take a Menstrual Education workshop?
In such situations, you can use printed materials like the Menstrupedia comic which is available in all major Indian regional languages. When schools don't have facilities like a projector or electricity, as I said before, where there is a will, there is a way. You can use hand-outs, pamphlets, or draw diagrams on chart papers. You can also take a few sanitary napkins along with you and explain how they are used. Models of the reproductive system also help a lot; you must use your creativity in these situations. There is no dearth of resources if you are willing to teach girls about menstruation.
Q10: What should be there in a Menstrual Education kit, if an educator wants to take up sessions in other schools?
We require both structural as well as perceptual changes in mindset such as the following in a Menstrual Education kit-
Promoting the correct information in the regional language is very important since these children are very young to shape their opinion and present it to their parents. Parents play an important role in the confidence and development of children; therefore, the content should be easy and in the regional language so that it reaches them as well.
There should be vending machines for sanitary napkins. The shame felt by girls in carrying the napkins to the bathroom should be removed. Vending machines normalise that need for sanitary napkins.
Empathy from peers.
A safe environment that is non-judgemental.
Q11: Share some of the best moments and takeaways of your journey as a menstrual educator.
In India we have a culture of celebrations. If you associate the concept of celebration with periods especially as a male menstrual educator, kids relate your presence in the class with good memories and a class on menstrual awareness becomes comfortable. As a male educator, I suggest that you go with a bunch of chocolates or candies which you can distribute after the end of every menstrual awareness session. This would go a long way in celebrating something which has shame attached to it and you can completely change the narrative about how periods are talked about.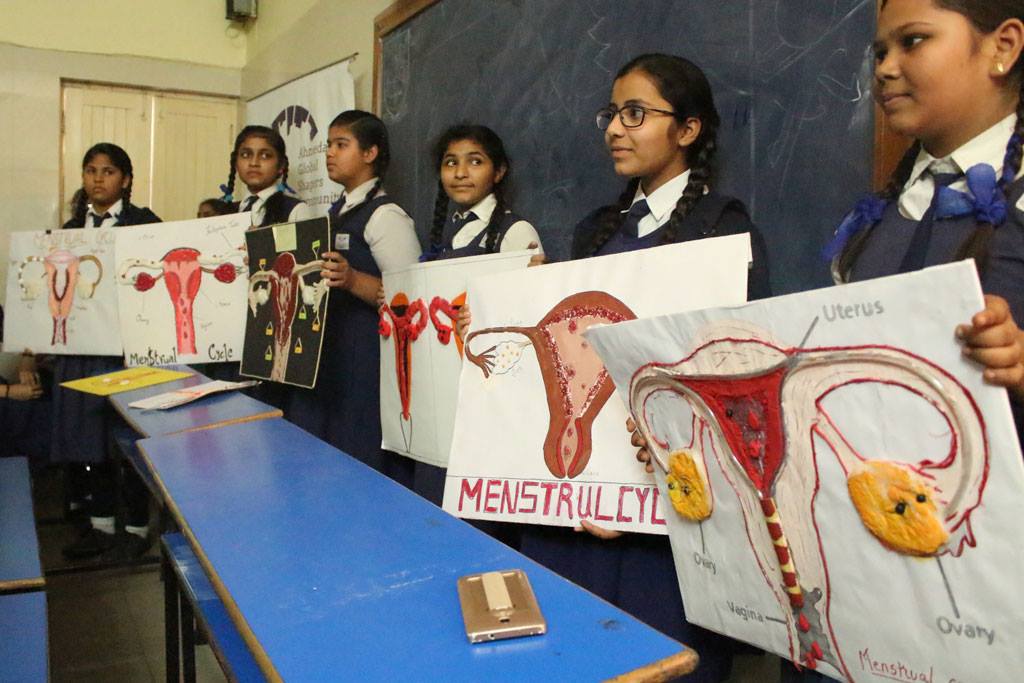 In the Science Period Project, we had a workshop with the girls and then organised a huge exhibition for their models related to periods. We awarded them and celebrated the students who finished their projects. This way the parents felt involved, proud, and appreciated since the girls took their help to make their projects. One of the teachers who was skipping the chapter about menstruation earlier completely shifted in her thinking when her niece's model won the first prize in the exhibition.
By celebrating periods, we involved those people who restricted period education and changed their mindset.
To know more about Madhish's ongoing projects connect with him on Instagram here: @madhish and @elixirindiaorg
By: Menstrupedia Staff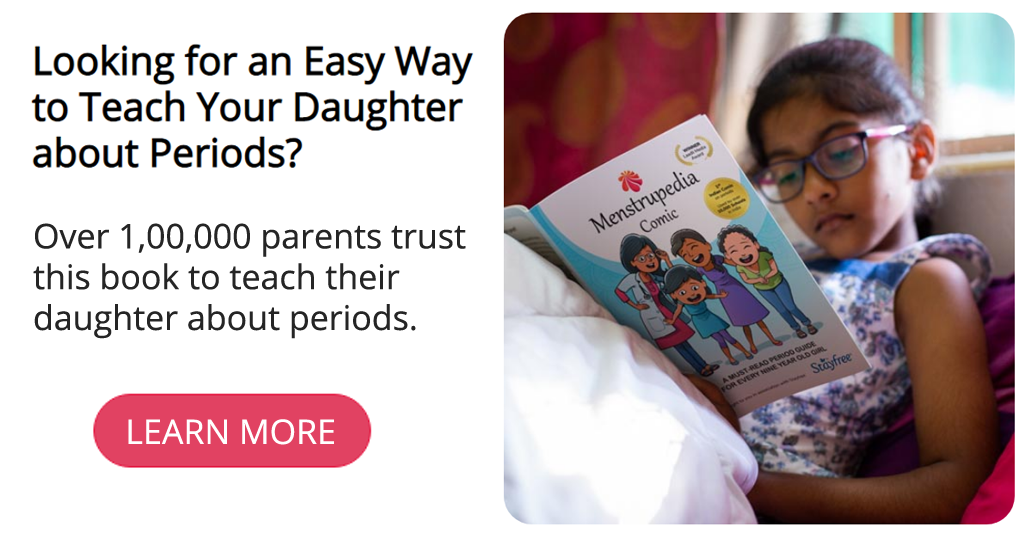 0