Periods weren't the second name for 'trouble' or 'pain' for me. I am one of the lucky few who don't have heavy flows or cruel cramps to deal with. The only difficulty that they have posed for me so far is to be irregular in addition to almost embarrassing me in front of my classmates. It was quite the task carrying those napkins in a discreet manner such that their colourful plastic wrappers weren't visible to the boys, as most of the times our uniforms didn't have pockets. And it wasn't as if the boys didn't know anything. They just gave us weird glances and we were left feeling embarrassed for the rest of the day.
With time came acceptance for this simple process going on in our bodies and since our uniforms later came with pockets, much of our trouble was considerably lessened. But the fear of staining still preoccupied us and we would ask female classmates to check if we had some evidence of that weird crime we committed every month , on our clothes.
But for me, these bleeding phases were a boon. I was exempted from doing evening aarti when I was on my periods. This was the greatest relief for me because I am one of the laziest creatures in my house and my mother would want me to change all the warm clothes I would be wearing and jump instead into a just clean night-gown to perform the ritual. I hated doing this and periods would come to my rescue for seven days in a month.
After some time though, I felt this boon turning into a curse. Since I was an introvert, I hardly talked to people about issues that bothered me. But I did have Lord Krishna by my side who would 'listen' to my problems and for those twenty minutes that I set aside, I could calmly sit by and think about the world, its problems, my problems and be a bit more philosophical than usual. But these wicked periods played the villain and hindered my communion with the higher powers to be since I was not allowed to enter places of worship during my periods. I would feel bad, and it was almost worse than losing a good friend.

Then came the Durga Puja vacations. I come from Odisha where we have almost the same traditions for Durga Puja like most Bengali people, with Ashtami Puja and lots of artistically competing pandals sprouting in every nook and corner of the city. I was at my grandparents' place to spend the vacations and needless to say, we planned to visit as many pandals as we could.

However, my elder sister was on her periods. While everyone was getting dressed in all of their finest of clothes, all the girls and my mother gathered around my sister and discussed if she could come with us or not. She was very excited about the outing since girls are still not allowed to step out of the house for 'silly' reasons like meeting friends or just going out in villages. I could feel her sadness because this was just how I felt being away from my lord for a whole week and not pestering him with silly questions. Although He is said to be everywhere so I could talk to the wall assuming it to be my celestial mate, sitting before Him and looking into His eyes felt like He was really there, sitting in front of me, just for me. Since pandals have gigantic idols of deities, this face-to-face effect tends to be amplified even further.
Didi was almost crying. The thought of sitting alone in the house when the rest of the family was out and partying is naturally very disturbing. Festivals are like parties in not-quite-mainstream India. She started putting back all the clothes and imitation jewellery she had taken out and we started walking out of the room. It was finalized that she indeed wasn't going to be coming with us. I was still feeling bad for not being able to do anything about it when suddenly; I came up with a solution. Biology had hit me hard in my head, reminding me that it was not only my highest scoring subject but also one that I could not even think of forgetting for even a moment.
"Mom! If Durga Maa ever existed as a human being, she too would have menstruated, right?  If her menstruating wasn't an issue, why are Didi's periods so hyped? Durga Maa was a human and Didi is a human too. And she is in no way different than the deity we are going to see, except she doesn't have ten hands," I said, as I saw Didi coming out of the room to listen to what we were talking about. All the three of us burst into giggles because it was true, we didn't have ten hands like the goddess but we did have the goddess' soul inside of us.
Didi then looked at both of us with a puzzled look on her face. My mother asked her to go back and get ready immediately as the thirteen-seater vehicle to accommodate a joint family was about to arrive in no time.
This made me wonder if our bodily systems should indeed inhibit something we want to do. They never should. Our biological systems are under our involuntary control, something outside our normal, everyday spheres of control. So why should we fuss over things we can't control? And I also found a way to spend more time with my Lord by lying to my mother for a day or two every now and then until she noticed sanitary napkins in the dustbin. We are what God made us; if S/He is really out there, and nobody can and nobody should stop us from doing anything which connects us to God. The 'Happy to Bleed' campaign was one such initiative that beautifully showed how our bodily functions should never be an obstacle from us doing anything we want to.
All in all, bleeding once in a month or two feels quite nice. It feels womanly. It feels special. It also feels anemic. But it is something we all should enjoy and embrace.
Disclaimer: Views expressed here are of the author alone and do not necessarily represent that of the brand.

Author: Mahima Mohanto
Mahima Mohanto. is a class 12th graduate from Chandigarh and is now preparing for medical entrance exams. This article is a winning entry for Menstrupedia contest – Victory Chronicles.
Editor: Divya Rosaline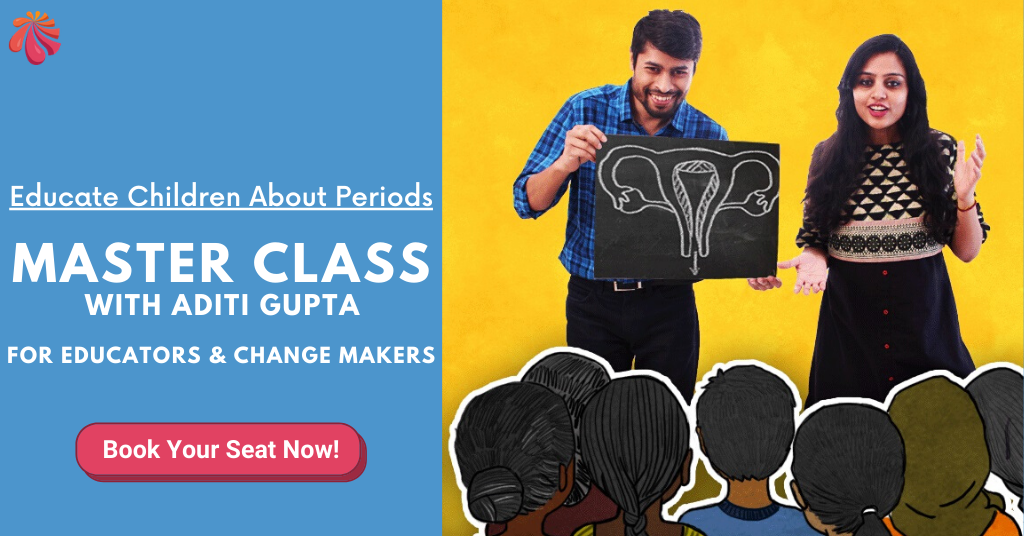 3