If you thought periods were one of those difficult days of the month for a girl or a woman, think of a visually impaired girl who has to manage her periods every month. Realising that menstruation is still such a taboo subject in Indian society along with the many restrictions which a girl has to face due to age – old myths, Sadhvi Thukral, a Delhi based designer decided to work in the field of providing information about menstruation. During her research, while studying at the Pearl Academy of Fashion, New Delhi, Sadhvi found that there weren't many sources of information available for visually impaired girls and therefore decided to work in this area.
She designed a kit which could serve as library material and would be made available at Institutions specialized in the teaching and training of visual impaired girls. However, this kit is designed in such a way that parents can also purchase it for their daughters.



The kit is divided into two parts. The first part has tactile diagrams along with text in Braille and in print. The second part has a life-sized, three-dimensional model for demonstration and training. It provides a holistic approach towards providing the basic essential information about menstruation to visually impaired girls.
Parts of the content used in the Kit are an adaptation of TARSHI's books on sexuality and reproductive health. The contents of the kit have been validated by the students of Saksham Daksh, Noida, India.
'Kahani Her Mahine Ki', as the name suggests, is a natural phenomena which reoccurs every month in most women. This kit covers the subject of menstruation and helps girls in the effective management of their periods.
The kit comprises of:
1. Tactile diagrams and material in the form of Information Slides, with labels in Braille and in print of the different parts of the body. The Information Slates fit into a box with slides.
2. Each slate has text in Braille for the visually impaired and in text for those who are not.
3. It also contains a life-sized model of the human body for demonstration.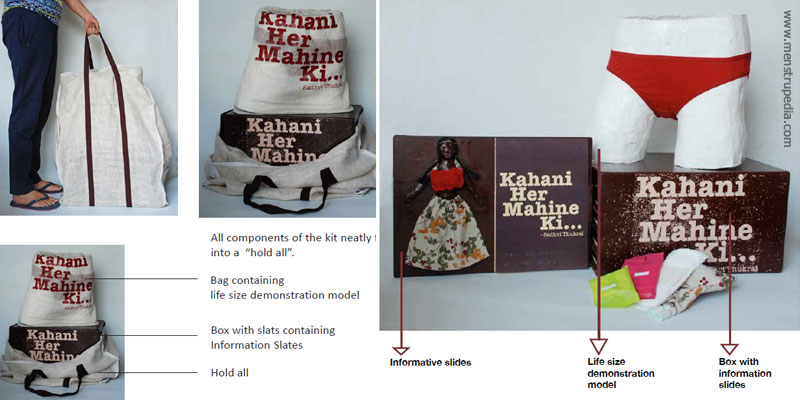 The kit contains informative slides made out of plywood. Plywood is readily available in the local markets and can be constructed simply by a trained carpenter. It contains five slides. A user can easily take out the slides one by one in serial order, beginning from the top to the bottom. Each slide is labelled with numbers to make it easy for the user to put it back.

These slides explain:
• How to keep your private parts clean
• Kinds of pads available
• How to wear a pad
• How to dispose a used pad and how to wear a tampon
• How to dispose a used tampon
• How to make and use reusable homemade sanitary options
• How to wash reusable pads and pouches for pads
• Suitable Panties
The diagrams seen on the slides are made out of terracotta and paper mash. It is 100% sustainable and is made by local artisans. It is a great source of income and can be adapted and styled in accordance with any ethnicity, based on the kind of clay modelling or pottery style prominent in the area. It is also a rapidly degenerating craft and this is a sure-shot way of reviving it.
The kit focuses on the bodily and hormonal changes in adolescent girls leading up to menstruation. It informs the reader about various products available in the market and even suggests home remedies for the same. A part of the training focuses on teaching the audience proper methods of usage and disposal of the products.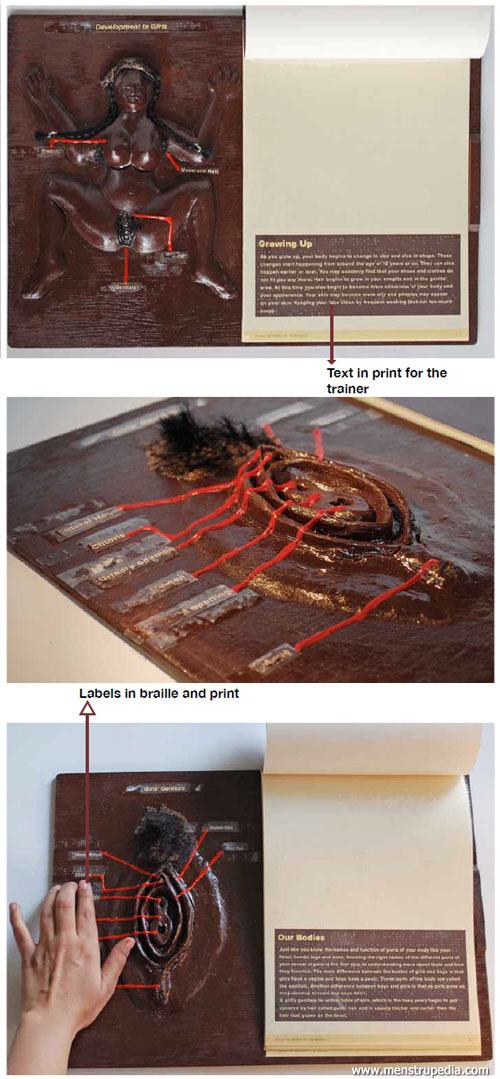 Life-size Model:
The life-size model is a replication of the lower torso of the female body complete with genitals made out of waste paper and silicon. A special mechanism has been worked out to demonstrate the real process of menstruation in the human body.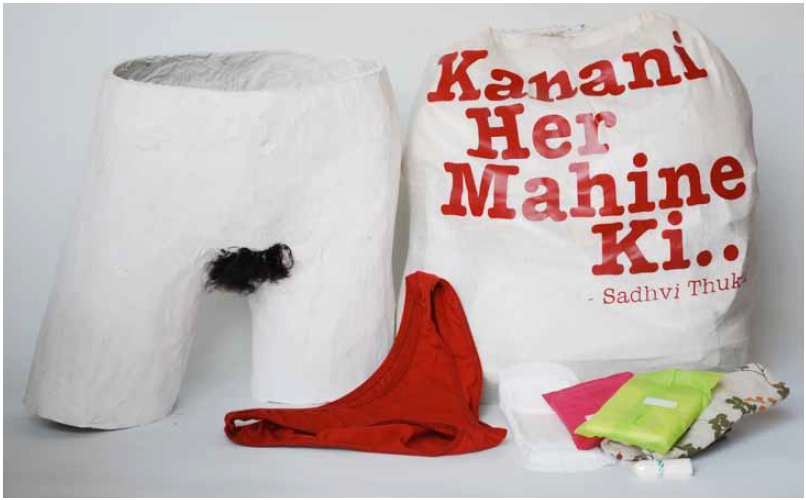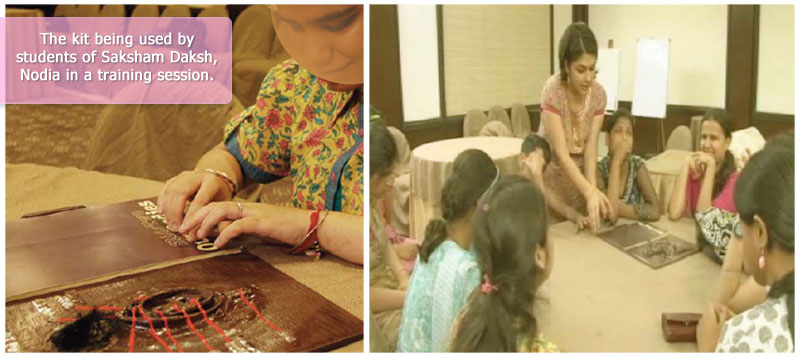 Sadhvi Thukral is a Delhi based designer. She worked on "Kahani Har Mahine ki" in association with Vikalp Design, the kit is documented by the Museum of Menstruation. This project also won the 'Most Innovative Award' at Openworks. Sadhvi is also looking for collaborations in taking this project further .
You can get in touch with her regarding the same at: sadhvithukral@gmail.com
Edited by : Divya Rosaline