In October 2014, my friend Anne wanted to start a small social initiative and asked me for help. I was happy about her call because we had been friends since our school days in Germany. What first seemed to be a favor for a friend soon became a very close – knit teamwork initiative and now, it's turning into an idea to establish a non-profit business in Nepal.
Anne is a cultural anthropologist focusing on the areas of Nepal and Tibet. She is currently based in Lhasa, Tibet. I am a media designer based in Germany who travels a lot, so I wondered how I could help her.
Having lived in Nepal for a long time, Anne came to realize that women's reproductive health and menstrual hygiene management are issues poorly addressed in the Himalayan country. Having both been users of menstrual cups, Anne and I saw the incredible benefits of this product. Her idea was to now bring them to Nepal.
This is when we started an Indiegogo crowd-funding campaign. Our aim was to distribute 100 Ruby Cups (menstrual cups) by handing them out in two workshops about menstrual hygiene management for girls and women, which we finally conducted in the rural Makwanpur district of Nepal, in February of 2015. Because we managed to secure more funding than we initially hoped for, we were able to also translate the wonderful educational resource of the Menstrupedia comic into Nepali and to print and ship 1000 copies of it.
My job as a media designer was to create different modes of communication for the campaign (animation of a video, creating graphics for Indiegogo Updates, maintaining a Facebook page, first logo, etc.). I enjoyed it so much that I decided to write my Design Master's thesis about our small initiative aiming to find strategies for 'people at the bottom of the pyramid' (BoP) who are people who earn less than US$ 3 a day. I aimed to design our services for these people in a much better and efficient way.
My design challenge was to empower girls and women in Nepal by providing them with resources and information on menstrual hygiene. But how does one manage all of this? How does one provide these materials sustainably? How does one encourage people to really use those resources? How does one change their attitude and behavior towards menstruation?
We have to understand why people would not buy things that are, in fact, good for them.
First I have to find out my own 'truth': how I, myself, who design a service for people at the BoP level, also consume. How do I make decisions and how are those decisions emotionally driven? For example: why do I not wear a bicycle helmet? It could save my life one day. I came to realize that it is because of the unlikely chance of an accident and of the inconvenience I would have the rest of the time (carrying it around, not having a place to store it, it messes up my hair, etc.).

When we want to build trust, we have to consider the following facts:
One – third of the people in the world have never purchased something for the first time without knowing about it before: a ticket for a movie, a book you have never read, a pair of shoes that you could imagine fit you. This 1/3 only buys what their parents and grandparents or friends bought. We buy because we trust the community and we buy because it feels safe and right and because it is the obvious choice. We like to buy what people like us are buying (also known as 'group decisions'). A group in this sense is a community of people who share a culture, a code, a leader and a goal. So Anna and I, as a social enterprise, must approach the group as a whole. Even if our target group is only school girls, we must refer to their mothers, families and their communities too.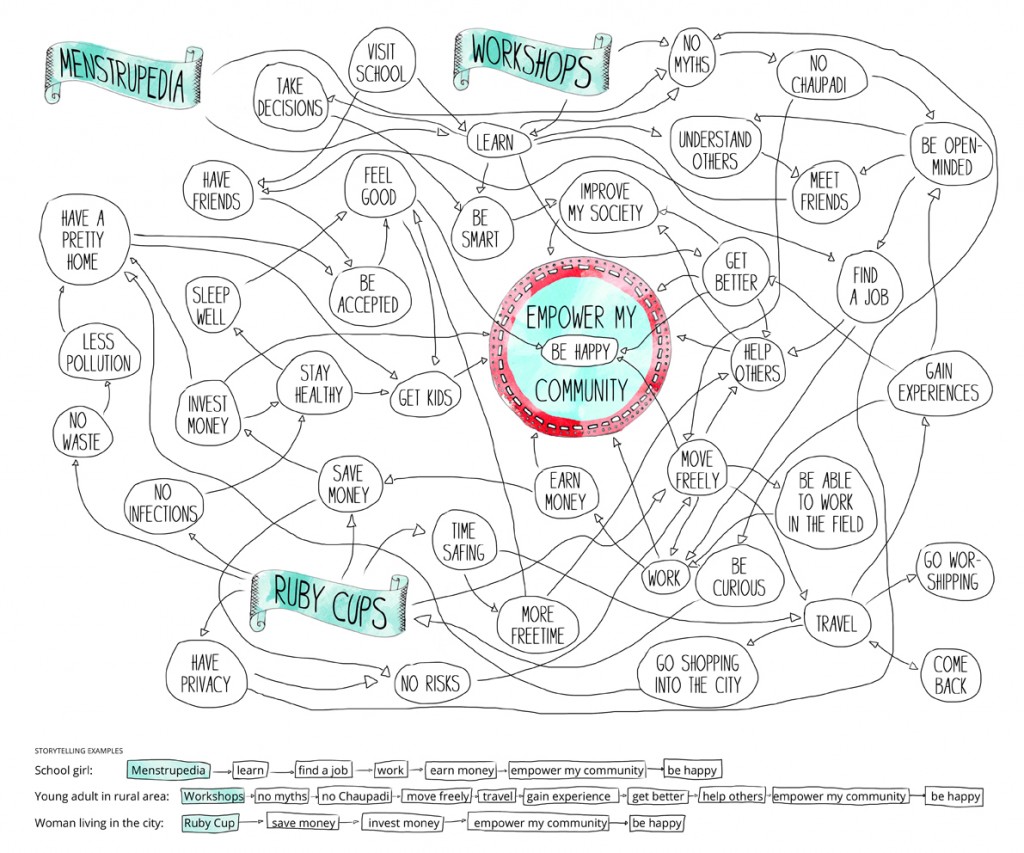 You also have to consider that people at the BoP level constantly feel a fear of loss. Often, their fear of losing something is higher than their desire of gaining something. This means they think that if they take a risk, for example – investing in a product and lose the little they do have, somebody in their community, their family or even they themselves might be negatively affected. Investing in a product that you are uncertain about and whose benefits you are unsure of, like a Ruby Cup – is not worth that risk.
So how do we approach these people and how do we change their world view? In order for our customers at the BoP level to purchase our products, we must build a relationship with them. As foreigners coming into their communities, trust is essential. We must be constantly present and reliable. Instead of completely changing their world view, we must adapt a combination of both parties'. We can do this through our marketing strategy and the story we tell them and explaining why investing money for a long term goal is worth it.
While brainstorming for my thesis, I decided to re-frame my design challenge to include the whole community: how can we strengthen a community by empowering girls and women in Nepal by providing resources on Menstrual Hygiene Management?
Proof is not what builds trust even if it is scientific (for instance, to say the Ruby Cup is clean, hygienic and cheap in the long-term, might not convince somebody enough to buy it). To overcome this, you can tell a story that is true and easy for the community to understand so that it continues to spread. I created a mind-map showing what I believe to be the ultimate goal: Happiness. For example: if a school girl is reading the Menstrupedia comic, she will be educated and education is crucial when finding a job, working and earning money. Earning money means you spend the money – you invest in products and services that keep the economy alive. Your community remains healthy and most importantly, you are happy. That might sound too easy, but we have to show people the effect of the Ruby Cup and the Menstrupedia comic and teach them how everything is connected.
We thought a lot about who might be the best early adopter of the menstrual cup. Our idea was to target young female role models who are around 20-30 years old, live in rural areas, are open minded and whom the community trusts. The female leaders will be equipped with the cup and can try it as a test run. They can counsel other girls after workshops and spread the word in the community. When purchasing the Ruby Cup, we hope it embodies the phrase: 'I have the power.' Girls can have more power because they can experience their periods in privacy and do anything without restrictions, because no one will notice that they are menstruating.
Here is a brief summary of my final thesis: Putali will see lower income people as costumers, not as victims of their society and circumstances who need charity. We will adapt to their needs – not the other way around. Instead of becoming an NGO, we want to establish a non-profit business that invests our profits back into our educational workshops. Having a memorable brand also attracts costumers and creates trust. That is why I created a website, a blog, a logo and an identity for Putali, Nepal.
Understanding the truth of Nepali people is crucial. And by that I do not mean 'the' truth, but 'a' truth, their truths because my truth is different to a Nepali woman's. In order for anything to work, empathy is essential.
We are very happy about our deep collaboration with Aditi and Tuhin from Menstrupedia during the last six months. We could not imagine having partners that work harder and are more reliable than the two of them. Together, we made the Nepali version of the comic turn into a reality and we cannot wait to see the books in the hands of Nepali kids.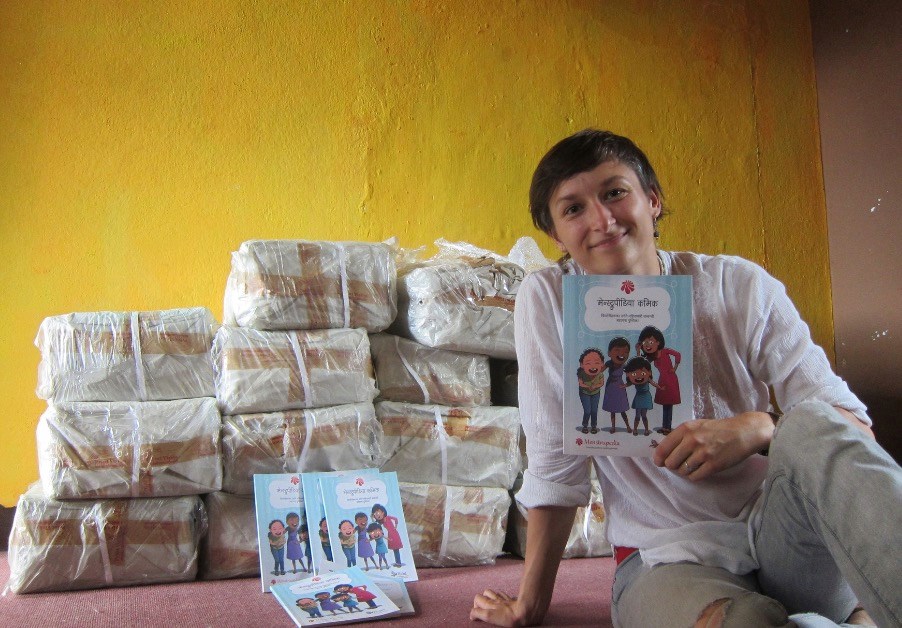 Spell check: Maggie O'Brien
Website: www.putali-nepal.com
Blog: www.putali.nepal.com/blog
Facebook Page: www.facebook.com/putalinepal

Author: Linda Kühne
Linda is a German new media design freelancer who tries to discover her own path to help communicate ideas as a designer in different countries, such as the USA, Nepal and Argentina. She is an aspiring social entrepreneur and went to Nepal for the first time in 2011 as part of her BA degree, and returned later in 2015.
Editor: Divya Rosaline

4